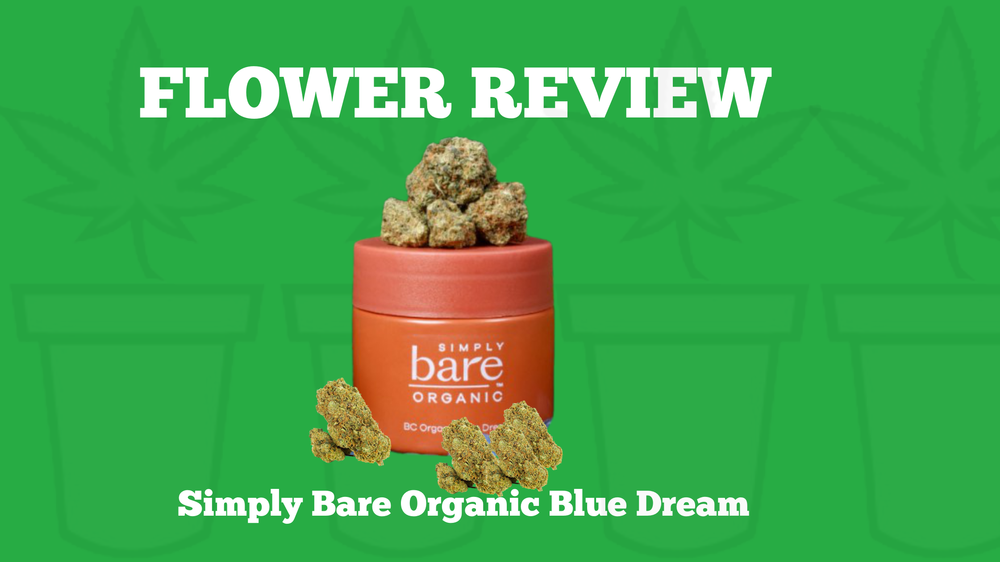 Flower Review – Simply Bare Organic Blue Dream
Reviewed by The POTery Potanist Chris
Simply Bare Organic Blue Dream
"Our version of this sativa-dominant strain is FVOPA Organic Certified. Her exceptionally aromatic flower gives off a blueberry aroma with a warm and peppery terpene profile. Like any good dream, she's both sweet and spicy. Hand-harvested and cold cured, these buds were carefully selected, trimmed and placed in a recyclable glass jar, sealed for freshness."
Packaging: Thick plastic lid with seal. The jar itself is glass with a soft color coating, placing it in the aesthetics of a top shelf producer. The packaging is not too large, reducing the empty space within and maintaining freshness.
Quantity: 3.5g @ $54.62(+tax) w 18.535% THC
First Impressions: First opening the jar, you are hit with a wave of sweet blueberry. Extremely welcoming and euphoric for those who enjoy a fruity smelling bud. The buds are large and very dense in crystals and overall consistency. Cracking open a bud reignites that sweet aroma while exposing a geode like center.
Medium: Spliff/Bong
Taste: The peppery profile takes center stage in the taste experience, leaving the sweet blueberry to linger in the background. Thick smoke that is warm and smooth this is a strain personally enjoyed more as a spliff to fully embrace the experience.
High: Laser focus are the words that come to mind with this product. In the words of my friend who joined me in the experience, "I feel like I can go play guitar and hit every note flawlessly." I completely agree with this statement except for my practice of martial arts. The "dream-like" state eases the mind to feel and flow with life and whatever one chooses to do. It may seem like a lower THC but with this profile of terpenes and cannabinoids and most definitely the production quality, it hits way harder.
Overall Score: If I were to rate this product it would be a solid 9/10. Nothing is perfect in life and arguably the crack that is present here would be the price. Coming in at close to 17$ a gram after tax, it may be hard for one to swallow that cost. In saying that, for those willing to appreciate flower for its unique qualities, I would highly recommend at least trying this once or treat yourself when you have something to celebrate.